Solo Vocal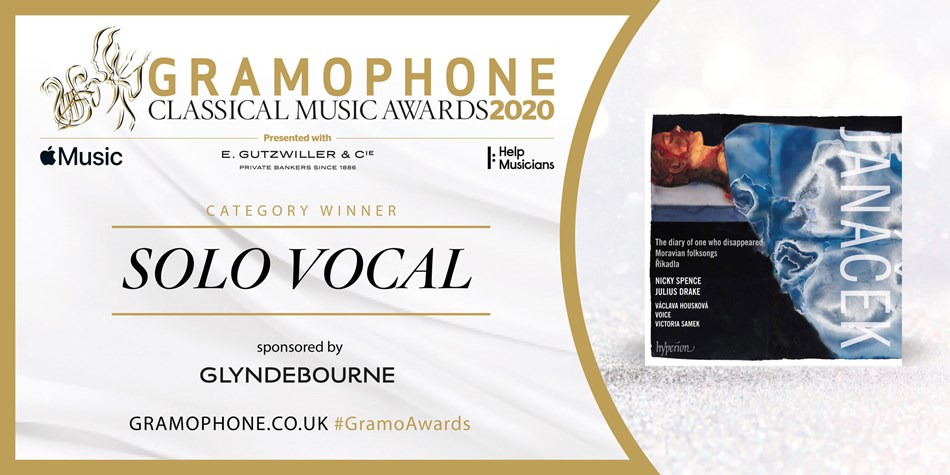 JANÁČEK The diary of one who disappeared, Nicky Spence & Julius Drake with Václava Housková and Victoria Samek​
(Hyperion)
The Gramophone Review
Nicky Spence's last solo Hyperion outing, on the final volume of the label's Strauss Lieder series, revealed how his voice had developed into an instrument of considerable heroic ring and resilience (8/18). This follow-up Janáček album is if anything more impressive, showcasing the young Scottish tenor in songs by a composer for whom his gifts – both vocally and temperamentally – seem to be ideally suited.
The main work is the hauntingly beautiful and moving The Diary of One who Disappeared, for which Spence joins a discography that, after early recordings by Beno Blachut and Nicolai Gedda, has featured distinguished accounts primarily from British singers. But he has nothing to fear from comparisons with such illustrious predecessors as Ian Bostridge (with Thomas Adès at the piano) and Philip Langridge (with Graham Johnson; Forlane, 4/96 – nla), which up until now have been the most recommendable modern accounts.
'He sings with sensitivity and intelligence, projects the words with consistent clarity and covers this wonderful cycle's broad emotional range movingly and convincingly'
He sounds wonderfully fresh and engaged throughout, presenting a vividly clear characterisation of the self-taught man captured by the 'lovely verses about that gypsy love' (as the composer described them to Kamila Stösslová) that Janáček set for an unorthodox but uniquely effective configuration of tenor, alto, piano and a trio of female voices. Not only does Spence's voice offer a rare mix of steely strength and velvety tenderness but his bright, vibrant timbre communicates a touching, wide-eyed sense of ardent longing, tinged with melancholy.
He sings with sensitivity and intelligence, projects the words with consistent clarity and covers this wonderful cycle's broad emotional range movingly and convincingly. Within the scope even of just the very first song, for example, he takes us persuasively from jittery nervousness through urgency to almost heartbreaking yearning. And he manages the various and varied mood shifts throughout the cycle no less successfully, especially in those many typically Janáčekian moments where lyricism bursts through briefly as sun through the clouds (listen in particular to the way he lets the strident exertions of the first part of 'Hey there, my tawny oxen' melt away into gentle yearning).
There's no shortage of earthiness to match the toiling rustic metaphors of the early songs, while the first encounters with Václava Housková's rich-sounding and seductive Zefka (the Czech mezzo captures the girl's wilfulness and wildness beautifully) are full of tender dreaminess. The arrival of the siren-like trio of female voices (the diaphanous Voice) in 'Welcome, my handsome one' is as it should be: heart-stopping and haunting in equal measure. Spence is no less fine in those central songs of the cycle that start to resemble an opera scene, and he rises fully to all the challenges the composer throws his way as the intensity grows: the top Cs at the cycle's conclusion don't hold any fears for him.
The tenor is brilliantly supported throughout by Julius Drake, who is ever alert to Janáček's piano-writing – delicate and piercing by turns – and conjures up the cycle's sound world superbly from the start: an uncanny place of beautiful strangeness, quietly miraculous nature, churning emotions and dreamlike encounters. Adès, a composer himself, of course, perhaps captures something a little more expressionist for Bostridge but Drake is every bit as impressive, not least in a visceral account of the central Intermezzo erotico.
The couplings are hardly less fine. There's something of a rarity in the form of the original version of the Nursery Rhymes, in which Voice offer a mixture of liveliness, mischief and beautiful blend (perhaps even a tad too beautiful for these modest songs) and Victoria Samek takes care of the jaunty clarinet contributions. Then Spence and Housková pick up their double act once more in the irresistible Moravian Folk Poetry in Songs. It's a performance that captures the set's characteristic mix of humour and melancholy beautifully, with too many lovely touches to list; but listen out for how Housková turns from the soulfulness of 'Heat from my love' to kick off the angular syncopations of 'Constancy', or the way the two bring almost unbearable tenderness to 'Who's the posy for?'.
Drake offers vividly etched playing once more (listen to his way with the cimbalom-like strums and melismas that accompany the vocal line in 'Rosemary'), while Voice join in for a rip-roaring account of the final song, 'Musicians'. It's a fitting conclusion to an album that offers much to celebrate: a superb achievement by Spence and Drake, in particular, and as persuasive an introduction to Janáček's songs as you'll find. Excellent engineering and presentation from Hyperion crown an outstanding release – highly recommended.
(Hugo Shirley, September 2019)
The Solo Vocal Award is sponsored by Glyndebourne